iOS 12.2 code hints at possible new iPads and iPod Touch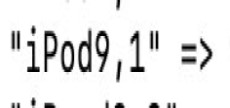 The well-regarded leaker Steve Troughton-Smith claims to have found references to unfamiliar iPads while diving into the code for the iOS 12.2 update. It suggests that new 11-inch iPads, as well as an iPad Mini, are on their way. The code also specifies an iPod Touch that could be of the rumored upcoming 7th generation.
The iPad Mini has not been updated for 3 whole years now. This fact lends itself to speculation that Apple has dumped this line of tablets for good. On the other hand, these slightly more budget devices could be a good way to drive more revenue in times that have been reported as tougher than usual for the Cupertino giant. Either way, the full-sized iPad series is alive and well; its latest generation is still under a year old.
Nevertheless, it seems that this line, along with the aforementioned Mini and (as a previous leak has suggested) the long-abandoned iPod Touch, are due for a refresh. The respected tipster Steve Troughton-Smith has been digging around in the code for a recent update to iOS (version 12.2). This has resulted in the discovery of some code that refers to 11-inch iPads. Should they be new models, they will (like the 11-inch iPad Pro 2018) be available in WiFi and celllular-capable variants.
Troughton-Smith also claims to have found references to what could be a new iPad Mini and a new iPod Touch. On the other hand, this part of the code appends the number 9 to this device, which is odd as an update to this standalone media player would bring its number of iterations up to 7. The leaker has also alleged that, according to the code, all of these products lack Face ID. This is understandable in relation to the iPad Mini and iPod Touch, but would make less sense for the higher-tier iPad. However, Apple fans may have a bit of a wait to confirm these findings for themselves.