iPod Touch will be resurrected for 2019 with USB type C: new rumor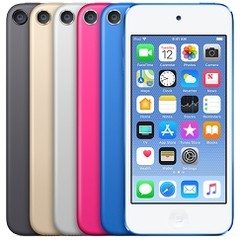 Apple has not refreshed or updated the iPod Touch since 2015. That year saw the 6th generation of the device, which was not heard of much since. However, that fact did not stop a Japanese outlet posting claims that a supplier had told it that this product would indeed make a come-back, one equipped with USB type C no less.
Working For Notebookcheck
Are you a techie who knows how to write? Then join our Team! Especially English native speakers welcome!
Currently wanted:
News and Editorial Editor - Details here

Hey, remember when your phone couldn't also act as your music player, content viewer and nearly everything else besides? It seems a long time ago now, but in fact Apple only stopped making new iPods after 2015, as it had become clear that smartphones had completely taken over from stand-alone media players at this point. However, a new rumor emanating from the Japanese tech website MacOtakara suggests that the iPod Touch, the last device from this line to survive, will be refreshed soon.
This may mean that there could be a 7th-generation iPod Touch available this year. MacOtakara also claims that, like the iPad Pro 2018, this device could have a USB type C connector. On the other hand, the outlet concedes that its source also said its development was not yet at the stage at which its complement of ports would be decided. Therefore, the alleged new iPod Touch could have a microUSB (or Lightning) connection instead.
Many hardcore Apple fans may welcome the prospect of a new iPod Touch after (what seems like) so long. Then again, the current trend towards improved audio-reproduction and increased fixed storage in smartphones seems to make such a device category patently unnecessary. On the other hand, Apple still sells the 6th-gen iPod Touch, at US$199 for a 32GB model and $299 for a 128GB variant. These devices can also be updated to iOS 12. In addition, specialist audiophile features (which now, however regrettably, may include the simple headphone jack) could drive a renaissance for this class of product.