Apple strikes back at the stock market; Amazon tops Microsoft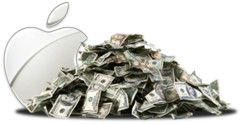 Apple's stock price has been experiencing an upturn over the last couple of weeks. After reaching a 52-week low of US$142, the Apple empire struck back, and the latest price for the Cupertino company currently stands at US$156.82. In terms of market capitalization value, Amazon has now overtaken Microsoft.
For a while it seemed that Apple's declining stock price trend was going to continue to such a point that its market capitalization value could even fall below US$500 billion. However, since the first week of January, the company's stock price has started gaining some strength in the market, to a point it now stands at over US$156. The tech giant's market cap value is US$741.7 billion, still a long way from the heady days of trillion-dollar status but at least moving in the right direction for long-term investors.
The other American tech behemoths have also enjoyed a good day at the market. Amazon is especially doing well, having managed to overtake Microsoft in value: US$829 billion compared to the latter's US$826 billion. Both companies have eclipsed Apple for the time being, but if the iPhone-maker's stock price continues to rise at a healthy pace, this could eventually change.
Strangely enough, there appears to be no obvious single reason for the increase of investor confidence in Apple. The company's brand name is practically solid gold, which obviously helps attract investment in the first place. There are already high expectations in regard to the firm's product output for 2019. A few well-received devices and some updated or even new services could help Apple regain its former stock market glory - but it will be an uphill struggle.