Apple's stock price takes a dive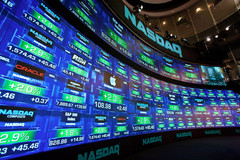 Apple's stock price plummeted on the NASDAQ today. The previous close for the Cupertino company stood at US$157.92. However, at the time of writing, the stock price had fallen to US$142.19, leaving the iPhone maker with a market capitalization value of around US$674.7 billion. Apple's stock price hasn't been this low since the first half of 2017.
Things just seem to be getting worse for Apple in stock market terms. It wasn't that long ago the company was flying high with stock prices above US$233 (October 2018) and a market cap value of over US$1 trillion. But a series of events, including Tim Cook's recent revenue revelation, have knocked Apple's financial status to a point where it has lost almost a third of its value.
Regardless of its massive cash reserves, Apple's continuing struggle at the stock market will still have nervous investors wanting to offload their shares. Although the downward trend for American tech giants has continued, companies like Amazon and Microsoft are only experiencing slight drops and are maintaining market caps over US$730 billion.
A dive of US$15.73, or 9.96%, on the day should be of considerable concern to the top brass at Apple, although the inevitable company buybacks will benefit from dips in stock price. 2019 should be a very interesting year for the company as there are numerous products expected from it, and it's likely Apple will be investing more into its services.