Apple's iPhone XR has outsold both the XS and XS Max since launching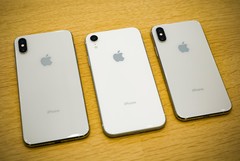 Sales-wise, Apple's current generation of devices may be the most lukewarm the company has put out in the recent past, and the fact that the cheapest device of the lot is the best-selling is unlikely to be considered a positive by the company's executives.
Apple released a trio of devices back in September. Of the three of them, the iPhone XR was the cheapest and least-specced, but perhaps the most anticipated. Initial rumors claimed it would be Apple's new take on the immensely popular iPhone SE but few would debate the fact that such statements have been proven to be false, as the XR shares nothing with the SE bar the fact that it's the cheapest of the current generation of iPhones.
Being the cheapest has its perks, though, as the iPhone XR has quickly become the current best-selling iPhone over the span of its life so far. According to Apple's VP of Product Marketing, Greg Joswiak, the XR has been the most popular iPhone since it was released. Priced at US$750, the XR represents incredible value for iPhone lovers who don't want to shell out the big bucks for the iPhone XS or XS Max, especially since the XR is a fine device in its own right.
While the XR is doing fine, it may be the only thing bringing joy to the Cupertino-based company at the moment, as sales of the XS and XS Max have lulled, with reports claiming that Apple has started producing the last-gen iPhone X in certain markets again.