China trade risk hits American tech giants; Apple stock falls again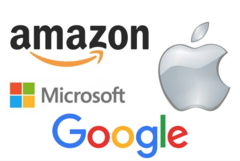 Amazon, Apple, Google, and Microsoft have all suffered on the stock market today amid growing concerns over US-China trade relations. While some investors have been selling stock to reduce the chance of risk, others have been nervously watching recent events such as the trade talks between President Donald Trump and President Xi Jinping and the arrest of a high-ranking Huawei executive.
It doesn't like there will be much for Apple to celebrate this holiday season. The Cupertino-based company has witnessed its stock falling dramatically over the last few weeks, and recent events have caused the tech giant's stock price to slip even further. The NASDAQ stock price for Apple at the time of writing stood at US$168.38, falling from the previous day's close of US$174.72. The market capitalization for the company, which once stood at a trillion dollars, has now sunk to US$799 billion.
Microsoft may currently own bragging rights for the greater market cap value (NASDAQ: US$804 billion), but the Redmond company has also been affected by worried investors dumping stock today. Microsoft's price fell by 4%, while Amazon and Google's prices were also hit, dropping 4.12% and 2.92%, respectively. Speculation for the drops has centered on the current tenuous trade agreement between the USA and China, which could still end up with President Trump imposing hefty tariffs, and on how Huawei CFO Meng Wanzhou's detainment situation will play out over the long term.
Amazon is now snapping at Apple's heels in terms of market cap value. The Internet-based retailer had a value of nearly US$797 billion today, and if consumers choose the Seattle-based company as the main source of their shopping over the festive season, chances are at least one of the American tech giants will be enjoying a happy holiday.