Microsoft close to eclipsing Apple's market cap; iPhones threatened by Trump tariffs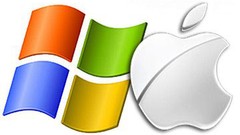 Microsoft has come very close to matching Apple's market capitalization value today. At the time of writing, Microsoft's market cap was US$817.28 billion compared to Apple's US$828.64 billion. Earlier in the day, the two tech giants had been within around US$3 billion of each other. A comment from President Donald Trump about potential trade tariffs caused Apple's stock price to fall.
Apple's price crash seems to be far from abating. Executives at the Cupertino-based company have had to endure a day of troubling news, while watching Apple's stock price fall even further. Firstly, it appears rival Microsoft is rapidly gaining on Apple's diminishing market capitalization value, and secondly there is the possibility that iPhones will be hit by tariffs President Trump may be planning on imposing on Chinese electronic items.
NASDAQ has estimated Microsoft's current market capitalization at just over US$817 billion, putting the Redmond-based company in touching distance of Apple's US$828 billion. At one point, Apple's stock price fell to a low of US$170.26 on the day, which reduced the company's market capitalization to barely a few billion above that of its competitor. The price bounced back by the end of regular hours trading, to stand at US$174.62. But if current trends continue, Apple will soon have to settle for second place behind Microsoft in terms of market cap.
Regardless of bragging rights, Apple now has a new potentially devastating problem to face. President Trump has stated in an interview with the Wall Street Journal that he will resort to trade tariffs if negotiations with Chinese officials aren't successful. These tariffs include a 10% rate on smartphones and laptops imported from China, which would include Apple's iPhone line-up. The president's remarks alone were enough to make Apple's stock price jittery; if he was to actually enforce the tariffs it would likely deepen the company's current financial predicament.