Apple stock plunges; price dips below US$200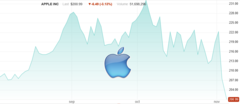 Apple's share price fell below the US$200.00 mark today, reaching a low of US$198.17 at the time of writing. The continued stock plunge has devalued the company from its previous trillion-dollar valuation; market capitalization currently stands at US$950.8 billion. In early October, the share price stood at just over US$230.
It seems Apple's branding as a trillion-dollar value company will have to be mothballed for the time being. At the time of writing, the Cupertino-based tech giant had a share price of US$200.99 but had slipped beneath the US$200 marker earlier on in the day, falling to a low of US198.17 before rallying slightly back up. The price is still down on the day though: The previous day's close was US$207.48.
The current situation is in sharp contrast to barely a month ago, when stock prices for Apple seemed to be practically soaring. The price reached a high of US$233.47 on October 3. This followed a long trend of climbing for Apple's stock price, which was sitting at a lowly US$154.83 at the beginning of February.
The troubled waters Apple's value is currently floating in have been attributed to various things, including a downbeat sales forecast for the holiday period (downbeat by Apple's standards, at least), an unexpected reduction in production, and the news that sales numbers for hardware will no longer be revealed.