Apple has started selling refurbished iPhone 8 devices for $499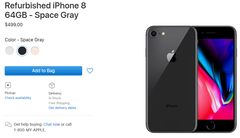 Apple's in-house refurbished store has started selling 64 GB iPhone 8 handsets for $499, $100 less than a new phone. Apple's refurbished iPhones are basically used internals that are cleaned and repaired, then placed into a new chassis with a new battery. Higher capacity iPhone 8 models and the iPhone 8 Plus should be available in the refurbished store soon.
Want to score an iPhone, but don't want to shell out $750 (or more)? Check out Apple's in-house refurbished store, which just started selling the iPhone 8 for $499.
The iPhone 8 was released last year alongside the iPhone X and is still a fairly capable phone by most metrics. Considering that a brand new iPhone 8 starts at $599, saving $100 by going refurbished isn't a bad deal, especially considering how Apple treats their refurbished handsets. Apple typically takes older phones that have been traded in for newer devices and guts them. Apple technicians then move the internals into a new case, slap in a new battery, and package everything in a new box to be listed on Apple's own refurbished store. To top it off, Apple's refurbished products get the same 1 year warranty that their new phones do.
Currently, the only models available in the refurbished store are Gold, Silver, and Space Gray 64 GB variants. The 128 GB model is still MIA, as is the iPhone 8 Plus, but those should be listed within the coming months.
If you want to save even more, the iPhone 7 is still on sale in the refurbished store. A 32 GB model (any color) will run you $379, which isn't too shabby for a decently-specced iPhone. Bumping up to the 128 GB iPhone 7 will cost $469.
Or you could save even more and buy a modestly priced Android phone.