Stereo-gate: iPhone XS and XS Max hit with new bug (audio this time)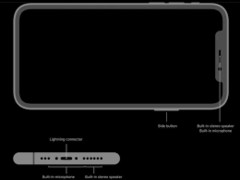 The latest Apple flagship smartphones are facing yet another issue that means they do not work out of the box as described. This time, it seems that one of their dual speakers does not fire while playing audio. The bug has been reported numerous times on several different types of forum by now.
When Apple introduced its iPhone XS and XS Max flagships, the company made a big deal out of virtually every hardware- or software-based features of the two extra-large new phones. This included the devices' audio, which, like the iPhone X, is handled by two separate speaker modules: the one on the bottom edge of the phone and the one in an 'earpiece' position at the top of the phone. They should work together to create a stereo experience when the phone plays sound without headphones. According to some owners, however, in some cases they do not.
These users have posted complaints on Reddit, the iMore owners' forum and Apple's own forum that the top speaker on either the iPhone XS and XS Max do not reproduce audio when playing videos or music. The component apparently still works perfectly as an earpiece in calls, but not as a speaker. At least one of these users has demonstrated that they did not activate a Mono Audio mode by mistake. Others claim that the issue goes away after a reboot of the phone in question.
Therefore, this issue is likely to be software-based. Apple has not responded to these users' concerns (at the time of writing, at least). Hopefully, they will address this problem with these extremely expensive devices soon.