Huawei finally spilled the beans on the long-rumored Mate 20 and Mate 20 Pro during a press event in London today. As previously speculated, it will have a notch and lack the 3.5 mm audio jack not unlike on last year's Mate 10 Pro. Other than these controversial features, everything else about the smartphone is a wide leap over what the previous model has to offer.
Firstly, the display has been upped from 6-inches on the Mate 10 Pro to a curved 6.3-inch HDR panel (3120 x 1440) on this latest iteration. Huawei will be sticking with OLED again to maintain the very fast black-white and gray-gray response times for reduced ghosting when scrolling. The aspect ratio has also changed to be even narrower this time around and so the Mate 20 Pro is slightly shorter in width than its predecessor for easier one-hand operation.
Secondly, the new Kirin 980 will be Huawei's first 7 nm SoC with major improvements over the 10 nm Kirin 970. The octa-core CPU follows a new Big-Medium-Little approach with 4x high-performance cores, 2x mainstream cores, and 2x low-power cores that are each optimized for different levels of use. The OEM is promising a final multi-core Geekbench score just shy of 9900 points to be even higher than the Exynos in the Samsung Galaxy Note 9. Overall, Huawei says the Kirin 980 will be 40 percent more CPU efficient, 105 percent more GPU efficient, and roughly 20 percent faster than the Kirin 970.
The dedicated neural processing unit (NPU) is now a dual-core processor for 134 percent higher performance and 88 percent higher AI efficiency than the NPU in the Kirin 970. As an example, Huawei showed off the phone simultaneously recording video of a moving child and automatically face-tracking her in real-time to reduce blurriness. Because of the doubling of cores, the NPU is now 1.6x larger in die area than the previous generation.
Thirdly, the rumored triple camera setup will indeed be on the new Huawei flagship. Arranged in a "quad array" formation with a dedicated dual-tone flash, the three cameras consist of a primary 40 MP f/1.8 sensor with a 16 mm focal length, secondary 20 MP f/2.2 ultra-wide sensor, and a tertiary 8 MP f/2.4 telephoto sensor with IOS. The cameras are capable of 3D depth sensing and are AI enabled. The monochrome lens from the previous generation has been dropped as Huawei is claiming that its functions can now be integrated onto a regular telephoto lens without impacting quality.
Fourthly, Huawei has now integrated wireless Qi charging and a larger battery for the Mate 20 Pro. In fact, the smartphone can even be set to charge other Qi-enabled smartphones as a testament to the phone's large internal battery. Meanwhile, wired super-charging will now support up to 40 W to charge from 0 to 70 percent in just half an hour. In all, the OEM is promising 100 percent and 200 percent faster cabled charging and wireless charging, respectively, than the 2017 iPhone X.
Fifthly, both face unlock and onscreen fingerprint sensors now come standard on the Mate 20 Pro. Huawei says the new face unlock will be 30 percent faster than on the P20 and the onscreen fingerprint sensor will be 20 percent faster than on the Mate RS.
Finally, the IP68-certified design of the Mate 20 Pro is a complete overhaul from its predecessor. The aforementioned notch, narrower aspect ratio, curved display, curved edges, quad array cameras, and onscreen fingerprint sensor have all come together for a very distinct look that couldn't be more different than the Mate 10 Pro. Even the back glass has been slightly roughened in texture to reduce fingerprints and scratches while increasing grip.
Prices are still unknown as of this writing, but existing rumors are claiming a much higher starting price than the last generation Mate 10 Pro. Interestingly, there will be no special customized variant for North American users.
For more in-depth information on features, camera quality, performance, surface temperatures, screen brightness, and software, please check out our on-going review on the Mate 20 Pro here. We will be constantly updating our review page with data and analyses in the days to follow.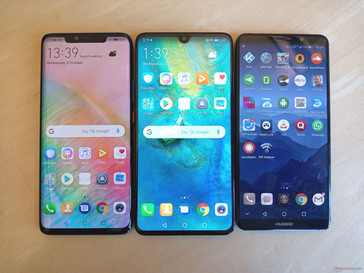 After graduating with a B.S. in environmental hydrodynamics from the University of California, I studied reactor physics to become licensed by the U.S. NRC to operate nuclear reactors. There's a striking level of appreciation you gain for everyday consumer electronics after working with modern nuclear reactivity systems astonishingly powered by computers from the 80s. When I'm not managing day-to-day activities and US review articles on Notebookcheck, you can catch me following the eSports scene and the latest gaming news.