In just five months, Huawei has sold 10 million Mate 20 phones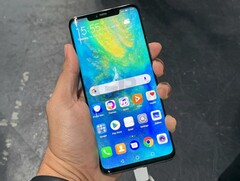 Huawei's Mate 20 phones may have given up their position as the best flagships on the market to the Samsung Galaxy S10 devices, but they've already sold in massive quantities. According to Huawei CEO Richard Yu, the company has shipped 10 million units of the devices, barely five months after they were launched.
Huawei unveiled its Mate 20 lineup back in October, five months ago. The devices—the Mate 20 Pro, in particular—were hailed at the time for being some of the most impressive pieces of smartphone hardware ever made. All of those accolades appear to have translated into sales, too, as the company has now confirmed that it has shipped 10 million units so far.
While 10 million unit shipments may pale in comparison to Apple and Samsung's flagship numbers, it's still a ridiculously impressive figure—especially since it's barely been five months since the devices were launched. For some comparison, the Samsung Galaxy S9 phones have sold about 30 million units since they were launched.
While we expect sales of the Mate 20 phones to slow down, especially with the coming launch of the P30 devices, we'd be surprised if the company didn't sell 20 million units of the flagships at least. Not exactly on par with Samsung's offerings but not that far behind either.