Huawei Mate 20 X and 20 Pro now have an AI Color Mode for pictures as well as video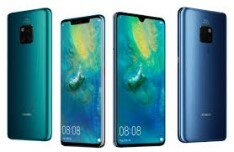 The Huawei Mate 20 series was launched with a triple rear camera associated with Leica and informed by AI. Now, a new update to EMUI has enabled this AI to extract or isolate colors from still images taken using the Mate 20 X or 20 Pro. This feature was available during video recording on the 2 phones, and now extends to their photography as well.
The Huawei Mate 20 series has started to receive a new update to EMUI, the OEM's customized version of Android for its mobile devices. Reports have emerged that it has resulted in an interesting camera upgrade for some phone of this recent flagship series. It further enhances the phones' AI, which can also affect many other aspects of the series' video and photo-taking performance.
This update, known as EMUI 9.0.0.195, has added an AI Color Mode to stil-image capture on many Mate 20-line phones. This feature allows for intelligent edits such as the isolation of one specific color in photos. This allows for effects such as the retention of one colorful object of an otherwise monochrome picture. AI Color Mode had been present in the premium Huawei phablets prior to this update, but this is the first time it has been present in the photo aspect of the devices' camera apps.
According to an XDA report, this new camera feature has only made it to the X and Pro variants of the line in question. This means that these phones can add AI Color Mode to a long list of camera attributes that also includes triple-sensor main modules, Leica branding and 3D-sensing abilities. It is not clear when or even if the base model, the Mate 20, will see this camera-technique upgrade in the future.