Apple's latest iPad Pro tablets are almost as fast as a six-core MacBook Pro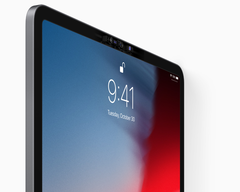 Latest Geekbench results suggest that the A12X Bionic SoC is closer than ever to Intel's top mobility CPUs. The single-core scores are pretty tight, however, the gap in multi-core mode is more noticeable. Still the A12 only lags behind by around 3,000 points, which means upcoming mobile chips from Apple could finally match Intel's solutions in 1-2 years.
Apple showcased the 2018 iPad Pro models a few days ago, claiming that the new A12X Bionic SoC and custom GPU powering the tablets can be as fast as an Xbox One console (presumably the 2013 version). While this aspect is certainly debatable, the latest Geekbench scores prove that the new tablets are very close to being on par with the 2018 MacBook Pro 15 powered by an i9 six-core CPU.

Keeping in mind that the new iPad Pro models come with the octa-core A12X Bionic SoC and only 6 GB of RAM, the comparison to the 2018 MacBook Pro powered by the Intel i9-8950HK six-core CPU coupled with 32 GB DDR4-2400 might seem a bit forced. Yet, the benchmark results are quite surprising. Sure, the laptop CPU is clearly not on par with the desktop version, but we are comparing mobility solutions, after all.

For single-core tests, the iPad Pro model managed to score 5,030 points, which is very close to the 5,419 points coming from the MacBook Pro. In multi-core tests, the gap is a bit more noticeable, with the iPad Pro scoring almost 18,000 points and the MacBooK boosting past 21,000 points. Still, the new tablets are closer than ever, and it looks like in one or two generations, the A SoCs from Apple could match Intel's mobility solutions.