Alexa and Echo Dot help Amazon to record-breaking sales; tech giants enjoy stock price gains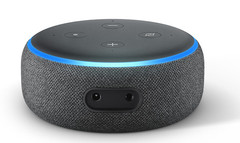 Amazon has revealed in a press release that the company has had a record-breaking holiday season, with products such as the updated Echo Dot and the Fire TV Stick 4K helping drive sales. The press release also described how Alexa has been utilized hundreds of millions of times during the festive period. The major American tech giants have finally had a reprieve at the stock market, making gains as consumer spending turns positive.
A press release issued by Amazon has no doubt given many investors a wide smile, as the company's stock price enjoyed a 9.45% increase on the day. The online retail company described how over a billion items were shipped to Prime users for free this holiday season in the US alone. Best-sellers out of the company's own product portfolio have apparently been the updated cloth-covered Echo Dot, the Fire TV 4K stick, and other Echo devices.
The Seattle-based company also revealed some details of how much and for what purpose its Alexa virtual assistant had been used. Apparently, the assistant was used tens of millions of times to turn on Christmas tree lights, and it was used over 100 million times as a timer.
It has been pointed out just how much customer data Amazon must have compiled over the holiday season, with the retailer offering information tidbits such as how the number one song requested by users was Mariah Carey's "All I Want for Christmas is You" and that a customer in St. Paul, Minnesota received their grocery delivery, which included La Croix sparkling water and Zevia soda, in 12 minutes and 19 seconds.
After weeks of doom and gloom at the stock market, Apple finally enjoyed a reprieve, with NASDAQ reporting a price increase of 7.04% for the day. Microsoft and Google (Alphabet, Inc.) also reaped in the benefits of Christmas spending, with 6.83% and 6.48% gains on the day, respectively. Apple's stock price stood at US$157.17 at the time of writing, with Microsoft still ahead in terms of market capitalization value: US$771 billion vs. Apple's US$745 billion.