Asus ZenBook 15 vs. Dell XPS 15: Still not enough to dethrone the popular 15-inch king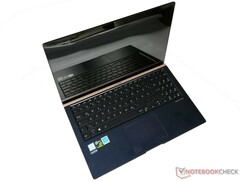 The bestselling Dell XPS laptop manages to be faster, tougher, brighter, and more feature-packed than the new competing Asus ZenBook 15 without running any louder or shorter. In return, the Asus laptop is much lighter and even a bit smaller, but its advantages don't go much deeper.
Whenever a new 15-inch multimedia laptop comes to market, someone will inevitably ask: How does it compare to the Dell XPS 15? The popular Dell laptop has become a standard of sorts for competitors to beat. It's not perfect by any means especially when it comes to bugs and crashes, but its sound hardware and long list of features have left a lasting impression.
We recently checked out how MSI's new PS63 Modern compares against the Dell and now we'll see how Asus' new 15.6-inch ZenBook 15 UX533 can hold up to the same machine.
Chassis Quality
Asus has done a surprisingly good job here. The ZenBook 15 is both smaller and noticeably lighter than the Dell equivalent by almost 400 (!) grams without looking or feeling like a piece of paper. Its aluminum build is firm especially around the outer lid, but its base is just a hair more flexible than the XPS 15. It's not enough to be of any concern and we'd gladly take this trade-off for the significant savings in weight.
CPU Performance
Asus relies on a 15 W Whiskey Lake-U Core i7-8565U CPU whereas the Dell system uses a more demanding 45 W Coffee Lake-H Core i5-8300H or i7-8750H. Overall multi-thread performance is more similar to the older Kaby Lake Core i7-7700HQ because the i7-8565U tends to throttle more heavily. For example, Our CineBench R15 Multi-Thread loop test below shows the i5-8300H XPS 15 outperforming the Asus by almost 14 percent after taking into account the throttling on both systems.
The even faster hexa-core Core i7-8750H is able to outperform the i7-8565U in our Asus by over 50 percent.
GPU Performance
The GeForce GTX 1050 Max-Q in the Asus is about 10 percent and 24 percent slower than the GTX 1050 and GTX 1050 Ti Max-Q, respectively, as found on the XPS 15 series. Users who want every ounce of GPU power possible may want to consider the XPS over the ZenBook.
Fan Noise
Despite having less powerful components, the ZenBook 15 is still about as loud as the XPS 15 when gaming or otherwise.
Display
The FHD Asus display falls short when compared to the FHD Dell display. It's about 25 percent dimmer with more inaccurate colors and a narrower color space. Black-white and gray-gray response times are also just as slow between the two models for noticeable ghosting. Nonetheless, Dell still has the clear advantage in this category.
Touchscreen is available on the Dell while the ZenBook 15 series is limited to FHD or 4K UHD non-touch.
Battery Life
Do the less demanding ULV CPU and Max-Q GPU give Asus the edge in battery life? Not really, because battery capacity is also smaller than on the Dell (73 Wh vs. 97 Wh). Real-world WLAN runtime is within an hour or so to be comparable to the XPS 15 9570 with the 4K UHD display. The XPS 15 9570 FHD SKU can last for several hours longer than the Asus.
Ports
Both systems share the exact same port options albeit with different positioning on each. Dell still has the advantage here because its USB Type-C port supports Thunderbolt 3 whereas the USB Type-C port on the Asus is limited to Gen. 2 speeds only.
The UHS-II SD reader on the Dell performs significantly faster than the UHS-I SD reader on the Asus as well (78 MB/s vs. 200 MB/s).
Conclusion
The ZenBook 15 is a great machine on its own. When compared to the XPS 15, however, many of its features are a step or two behind that all ultimately add up to an inferior product. For example, the Asus has a USB Type-C port, SD reader, and 15.6-inch display just like on the Dell, but there is no Thunderbolt 3 support, the SD reader is slower, and the display is both dimmer and less color accurate. CPU and GPU power are also slower which should theoretically give Asus the edge in both battery life and fan noise, but the two machines are instead comparable in these aspects instead of leaning heavily toward a single model.
Perhaps the one exceptional characteristic we can applaud Asus for is the chassis. The ZenBook 15 is surprisingly rigid considering how much lighter it is than the XPS 15. The competing MSI PS63 Modern feels more flexible than both. Otherwise, Dell edges out the Asus in pretty much every core category.
Working For Notebookcheck
Are you a techie who knows how to write? Then join our Team! Especially English native speakers welcome!
Currently wanted:
News and Editorial Editor - Details here

PCMark 10
Digital Content Creation
Dell XPS 15 9570 i7 UHD


GeForce GTX 1050 Ti Max-Q, 8750H, Toshiba XG5 KXG50ZNV512G

Dell XPS 15 2018 i5 FHD 97Wh


GeForce GTX 1050 (Laptop), 8300H, Lite-On CA3-8D256-Q11

Asus ZenBook 15 UX533FD


GeForce GTX 1050 Max-Q, 8565U, WDC PC SN520 SDAPNUW-512G

Productivity
Dell XPS 15 9570 i7 UHD


GeForce GTX 1050 Ti Max-Q, 8750H, Toshiba XG5 KXG50ZNV512G

Asus ZenBook 15 UX533FD


GeForce GTX 1050 Max-Q, 8565U, WDC PC SN520 SDAPNUW-512G

Dell XPS 15 2018 i5 FHD 97Wh


GeForce GTX 1050 (Laptop), 8300H, Lite-On CA3-8D256-Q11

Essentials
Dell XPS 15 9570 i7 UHD


GeForce GTX 1050 Ti Max-Q, 8750H, Toshiba XG5 KXG50ZNV512G

Asus ZenBook 15 UX533FD


GeForce GTX 1050 Max-Q, 8565U, WDC PC SN520 SDAPNUW-512G

Dell XPS 15 2018 i5 FHD 97Wh


GeForce GTX 1050 (Laptop), 8300H, Lite-On CA3-8D256-Q11

Score
Dell XPS 15 9570 i7 UHD


GeForce GTX 1050 Ti Max-Q, 8750H, Toshiba XG5 KXG50ZNV512G

Dell XPS 15 2018 i5 FHD 97Wh


GeForce GTX 1050 (Laptop), 8300H, Lite-On CA3-8D256-Q11

Asus ZenBook 15 UX533FD


GeForce GTX 1050 Max-Q, 8565U, WDC PC SN520 SDAPNUW-512G
PCMark 8
Work Score Accelerated v2
Asus ZenBook 15 UX533FD


GeForce GTX 1050 Max-Q, 8565U, WDC PC SN520 SDAPNUW-512G

Dell XPS 15 2018 i5 FHD 97Wh


GeForce GTX 1050 (Laptop), 8300H, Lite-On CA3-8D256-Q11

Dell XPS 15 2017 9560 (7300HQ, Full-HD)


GeForce GTX 1050 (Laptop), 7300HQ, WDC WD10SPCX-75KHST0 + SanDisk Z400s M.2 2242 32 GB Cache

Dell XPS 15 9560 (i7-7700HQ, UHD)


GeForce GTX 1050 (Laptop), 7700HQ, Lite-on CX2-8B512-Q11 NVMe SSD

Dell XPS 15 9570 i7 UHD


GeForce GTX 1050 Ti Max-Q, 8750H, Toshiba XG5 KXG50ZNV512G

Home Score Accelerated v2
Asus ZenBook 15 UX533FD


GeForce GTX 1050 Max-Q, 8565U, WDC PC SN520 SDAPNUW-512G

Dell XPS 15 2018 i5 FHD 97Wh


GeForce GTX 1050 (Laptop), 8300H, Lite-On CA3-8D256-Q11

Dell XPS 15 2017 9560 (7300HQ, Full-HD)


GeForce GTX 1050 (Laptop), 7300HQ, WDC WD10SPCX-75KHST0 + SanDisk Z400s M.2 2242 32 GB Cache

Dell XPS 15 9570 i7 UHD


GeForce GTX 1050 Ti Max-Q, 8750H, Toshiba XG5 KXG50ZNV512G

Dell XPS 15 9560 (i7-7700HQ, UHD)


GeForce GTX 1050 (Laptop), 7700HQ, Lite-on CX2-8B512-Q11 NVMe SSD
Asus ZenBook 15 UX533FD


8565U, GeForce GTX 1050 Max-Q, WDC PC SN520 SDAPNUW-512G, IPS, 1920x1080, 15.6

Dell XPS 15 2018 i5 FHD 97Wh


8300H, GeForce GTX 1050 (Laptop), Lite-On CA3-8D256-Q11, LED IGZO IPS InfinityEdge, 1920x1080, 15.6

Dell XPS 15 9560 (i7-7700HQ, UHD)


7700HQ, GeForce GTX 1050 (Laptop), Lite-on CX2-8B512-Q11 NVMe SSD, IGZO IPS, 3840x2160, 15.6

Dell XPS 15 9570 i7 UHD


8750H, GeForce GTX 1050 Ti Max-Q, Toshiba XG5 KXG50ZNV512G, IPS, 3840x2160, 15.6

Power Consumption
Idle Minimum *

2.7

2.9

11.9

9.48

Idle Average *

8

5.8

17.1

16.1

Idle Maximum *

10.6

7.5

17.3

16.9

Load Average *

74

77.5

94.7

90.8

Load Maximum *

89

107

122

134.4

Witcher 3 ultra *

84

104.8
* ... smaller is better
Asus ZenBook 15 UX533FD


BOE07D8, , 1920x1080, 15.6

Dell XPS 15 2018 i5 FHD 97Wh


Sharp SHP149A LQ156M1, , 1920x1080, 15.6

Dell XPS 15 9560 (i7-7700HQ, UHD)


3840x2160, 15.6

Dell XPS 15 9570 i7 UHD


LQ156D1, , 3840x2160, 15.6

Response Times
Response Time Grey 50% / Grey 80% *
Response Time Black / White *
PWM Frequency

961.5

Screen
Brightness middle

311

413

370.1

494

Brightness

303

378

356

457

Brightness Distribution

81

86

87

88

Black Level *

0.24

0.29

0.37

0.34

Contrast

1296

1424

1000

1453

Colorchecker DeltaE2000 *

5.1

2.44

5.3

5.2

Colorchecker DeltaE2000 max. *

8.91

4.46

9.9

17.5

Colorchecker DeltaE2000 calibrated *

2.48

2.48

Greyscale DeltaE2000 *

4.93

2.48

4.6

2.7

Gamma

2.44 90%

2.43 91%

2.31 95%

2.1 105%

CCT

7641 85%

7006 93%

6284 103%

7038 92%

Color Space (Percent of AdobeRGB 1998)

58

62

88.3

71.2

Color Space (Percent of sRGB)

88

96

100

98.8

Total Average (Program / Settings)
* ... smaller is better
Asus ZenBook 15 UX533FD


GeForce GTX 1050 Max-Q, 8565U, WDC PC SN520 SDAPNUW-512G

Dell XPS 15 2018 i5 FHD 97Wh


GeForce GTX 1050 (Laptop), 8300H, Lite-On CA3-8D256-Q11

Dell XPS 15 9560 (i7-7700HQ, UHD)


GeForce GTX 1050 (Laptop), 7700HQ, Lite-on CX2-8B512-Q11 NVMe SSD

Dell XPS 15 2017 9560 (7300HQ, Full-HD)


GeForce GTX 1050 (Laptop), 7300HQ, WDC WD10SPCX-75KHST0 + SanDisk Z400s M.2 2242 32 GB Cache

Dell XPS 15 9570 i7 UHD


GeForce GTX 1050 Ti Max-Q, 8750H, Toshiba XG5 KXG50ZNV512G

Noise
off / environment *

30.5

30.3

28.4

30.3

29.9

Idle Minimum *

30.5

30.3

29

31.6

29.9

Idle Average *

30.5

30.3

29

31.6

29.9

Idle Maximum *

30.5

30.3

32.2

33.4

30.3

Load Average *

40.8

37.1

47.1

47.8

36.5

Load Maximum *

41.8

43

47.1

47.8

40.4

Witcher 3 ultra *

43.3

52

40.4
* ... smaller is better