Latest Nintendo Direct broadcast features Zelda, Hellblade, Dragon Quest, Fire Emblem, Tetris, and of course Mario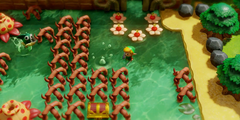 The latest Nintendo Direct broadcast has revealed a treasure trove of games and plans that will keep even the fussiest Nintendo fan content. Among the games featured were Super Mario Maker 2, a battle royale version of Tetris called Tetris 99, and Dragon Quest XI. However, the presentation's main event was clearly the introduction of the gorgeous-looking The Legend of Zelda: Link's Awakening.
The new Nintendo Direct presentation has just been uploaded, and it was chock-full of news and announcements, with focus taking place on the Nintendo Switch console and the game Fire Emblem: Three Houses. One of the highlights included an insight into the Dragon Quest XI port, which launches for the Switch in fall 2019.
Other clips shown in the presentation included a brief glimpse of Super Mario Maker 2 (June 2019) and the announcement that the critically acclaimed Hellblade: Senua's Sacrifice will be coming to the Nintendo Switch. A release date for Fire Emblem: Three Houses was given as July 26, 2019 and there was even a reveal of arguably the weirdest entrant to the battle royale genre yet, with Tetris 99. As the name suggests, 99 players "fight" it out playing Tetris while hurling garbage at each other.
Among all these announcements, which also included news about Marvel Ultimate Alliance 3 (four players can play at once) and GRID Autosport (coming summer 2019), there was the reveal of a Nintendo Switch remake for the 1993 Game Boy title The Legend of Zelda: Link's Awakening. After a brief animated intro, viewers get a look at the stunning cartoon-like graphics that will feature in the eighth-generation console's version of the game. There are exciting times ahead for Nintendo Switch console owners.