Sony ends production of PlayStation Vita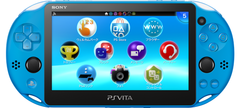 Sony has discontinued production and shipment of the PlayStation Vita handheld game console. The final two SKUs that were still listed on the Japanese product page now have the solemn words "shipment complete" in their respective summaries. Production of game cards for the Vita will cease at the end of March.
Time is officially up for the Sony PlayStation Vita handheld game console. The device has had a decent innings: It was released in Japan in 2011 and made it to most of the rest of the world throughout 2012 (Chinese gamers had to wait until 2015). The product information pages for the Vita on Sony's Japanese language website have listed the final two produced SKUs, the PCH-2000 ZA11 (black) model and the PCH-2000 ZA23 (aqua blue), as completing their shipments.
This won't be much of a surprise to Vita enthusiasts; we already reported on the console's expected demise in April and May of last year. With sales estimates hovering around 15-16 million units, the handheld console was a reasonable seller, but of course it didn't come anywhere near to threatening the massive sales enjoyed by Nintendo handhelds like the DS Lite and 3DS.
The PlayStation Vita console received a good reception from critics, who enjoyed its hardware and bright touchscreen. But the Vita could not live up to its predecessor, the PlayStation Portable, in terms of sales. An estimated 80 million PSP consoles were sold, making the Vita's amount pale in comparison. Gamers seemed to be put off by the high initial cost of buying the unit, and the increasing proliferation of gaming-capable smartphones also affected the Vita's later sales.