Sony will stop producing physical Vita GameCards in March 2019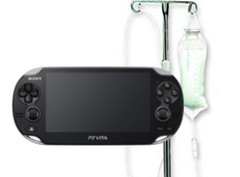 Sony's has announced that they will stop manufacturing physical games for the PlayStation Vita by March 2019. While the company will continue to support the digital distribution of games for the system, this is likely the first step toward the Vita's end of life.
Sony's mobile gaming division has led a tumultuous life since the PlayStation Portable's launch in late 2004. While it was never able to topple the handheld citadel that is Nintendo, Sony's handheld did reasonably well for itself, selling about 80 million units. The PS Vita, Sony's follow-up to the PSP, has not fared so well. Current estimates peg sales of the Vita somewhere between 5 and 10 million units. While not a complete flop, the Vita was a loss for Sony. The Japanese electronics company seems to have finally seen this; Sony will cease production of physical GameCards by the "close of [their] fiscal year 2018," which is March 31, 2019.
Jason Schreier, a regular columnist on Kotaku, received word of Sony's plans yesterday. In a note to developers, Sony said that developers should make Vita product code requests be submitted by June 28 of this year and that final purchase orders should be made no later than February 15, 2019. It should be noted that this pertains only to physical copies of games; Sony will continue to support digital distribution for the foreseeable future.
While it's sad to see the beginning stages of the Vita's end of life, it was inevitable. The Vita launched in Japan in late 2011 and made its way stateside in February 2012. The handheld never caught on in the West, thanks in large part to the Nintendo 3DS's dominance of the handheld market, the rise in smartphone gaming, and a lack of marketing support from Sony.
Working For Notebookcheck
Are you a techie who knows how to write? Then join our Team! Especially English native speakers welcome!
Currently wanted:
News and Editorial Editor - Details here