Sony may be working on a new Android tablet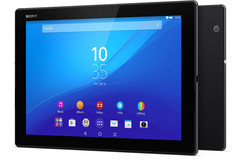 There is a rumor that Sony may be working on a new Android tablet. The rumor started after certain lines of code from a teardown of the camera app on the new Xperia XZ2 smartphone appeared on a blog called Sumahoinfo. The code features the words "Tablet_8inch" and "Tablet_10inch," and it also contains some simple concept images of devices that could hint at future Sony tablets.
A teardown of the Sony Xperia XZ2's camera APK has revealed some interesting information that has led to a rumor that the Japanese company is planning on releasing a new tablet (or tablets) in the not too distant future. Sony's last tablet release was the Xperia Z4 Tablet, which came out in 2015. It might be possible that the tech giant is planning on introducing tablets that will eventually accompany the upcoming XZ2 devices.
Unfortunately, the code from the teardown that appeared on Sumahoinfo did not contain any further specifications or information in regard to future Sony tablets beyond potential screen sizes:
cam_core_eye_position_tutorial_port_tablet_8inch_icn.png
cam_core_eye_position_tutorial_port_tablet_10inch_icn.png

The basic illustrations show something that could be a tablet; the top central positioning of the front-facing camera in landscape mode suggests that the device in question is more likely a tablet than a smartphone.
After three years away from the tablet market, it would be very interesting to see what kind of device Sony could come up with to tempt buyers. There has been speculation that any future tablet release may be called the Xperia XZ2 Tablet to tie it in with the latest smartphones from the Japanese manufacturer. Could Sony be preparing to shake up the seemingly moribund Android tablet market?