Hacked PlayStation Classic plays games from USB flash drive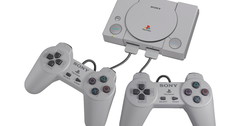 It has been reported that the new Sony PlayStation Classic has already been hacked, even though the console has only just been released. Apparently, hackers have been able to run software on the device using a USB flash drive, after discovering that the PlayStation Classic's security key is on the system itself. The console has been met with a generally lukewarm response so far.
Hackers have managed to find a way of running games and software on the PlayStation Classic through a USB flash drive. It was discovered that the device's security key was embedded in the system and that there is no signature check made while the console's bootrom code is loading. By using an external USB drive, the hackers were able to utilize their own software.
These initial efforts have led to the creation of open-source software appearing online that allows PlayStation Classic owners to download the required data payload to a USB flash drive, which can then be injected during the console's start-up operation.
Executives at Sony will not be too pleased to hear about this kind of hacking of the device, especially so soon after its release. The console has come under fire for offering PAL versions of some of the games and for not including some of the original PlayStation's biggest hits, such as Crash Bandicoot and Tomb Raider. Another criticism aimed at the PlayStation Classic has been in regard to the controller's impractical short cord length.