Demo Google Stream for an hour, get Assassin's Creed Odyssey for free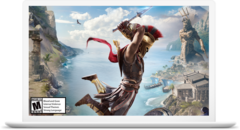 Have an hour to kill and want a free copy of Assassin's Creed Odyssey? Google is giving a digital copy of the game to users who demo Project Stream, the search giant's venture into the world of online game streaming services. Project Stream is currently an invite-only program, but its free to sign up. If you can log an hour of gameplay before January 15th, Google will send you a download code for Assassin's Creed Odyssey via Ubisoft's Uplay service.
How's this for an early Christmas present? Google is giving away digital copies of Assassin's Creed Odyssey to gamers who demo Google Stream for an hour, completely free of charge.
Google Stream is the search giant's entry into the budding world on online game streaming services. Google announced Stream back at the beginning of October, but it's unclear if the service will be fleshed out into a full retail product. Nvidia, Sony, and a few other companies already have game streaming services available for a monthly subscription.
In its current state, Stream is small. In fact, Assassin's Creed Odyssey is the only game available on the service. Google apparently needs testers for Stream; to that end, giving away a digital copy of a game is likely cheaper than hiring testers through traditional methods.
To get their copy of Assassin's Creed Odyssey (via Ubisoft's Uplay distribution platform), testers will need to demo Google Stream for at least an hour. That's easier said than done, however; Stream currently works on an invite-only system. Interested gamers can sign up at Stream's website, but it may be weeks before they're notified of acceptance into the service (if they're selected at all).
Still, a free game is nothing to sneeze at. For a shot at getting Assassin's Creed Odyssey for free, head over to Stream and sign up to be a tester. You'll need to get that hour of gameplay in before January 15th to qualify.