Worms W.M.D: Play it for free until Sunday at 1 PM PDT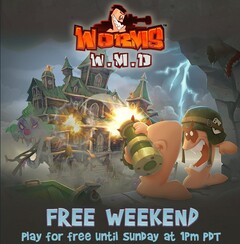 Released back in August 2016, Worms W.M.D is closely related to Worms Armageddon in terms of gameplay, adding new features such as tanks and buildings that can be used for protection. Available for multiple platforms, Worms W.M.D is available for free on Steam until Sunday, but those interested can buy it for 66 percent off until the end of the month.
Starting yesterday, Worms W.M.D has become a free-to-play title on Steam and will remain so until Sunday, July 28, at 1 PM PDT (6 PM BST). While the entire game is available for all Steam users, those who do not own it yet will have to purchase it if they want to keep playing after the aforementioned date and time. Thankfully, there is also a 66 percent price cut involved and this deal will be active until August 1.
Those who have not encountered this title so far should know that Worms W.M.D is a 2D artillery turn-based tactics title that has been around since 23 August 2016, when Team17 unleashed it on multiple platforms, including Microsoft Windows, macOS, Xbox One, PlayStation 4, and Nintendo Switch.
In terms of gameplay, Worms W.M.D is similar to Worms Armageddon, but it introduces new features that range from various interactive vehicles — such as tanks — to buildings that can be used for protection. This title is also the first one to feature a major redesign of the worm characters since Worms 3D.
As you can see in the official trailer below, Worms W.M.D can be a lot of fun, so if you have nothing better to do this weekend, you might want to take it for a spin. As usual, if you want to share some memories that involve the Worms series, you should go ahead and do so.