Get it while you can: Age of Wonders III is now free on Steam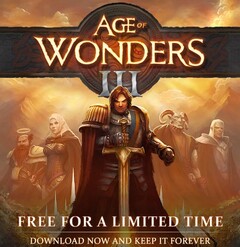 Age of Wonders III arrived at the end of March 2014 for Microsoft Windows, but it became available for OS X and Linux as well one year later. Now, those interested can grab the original release for free via Steam until July 15 — and keep it forever after that, of course. Sadly, there are no expansions included and the free game will not generate any Steam trading cards.
This awesome deal went live yesterday and will expire on July 15, so you'd better hurry up and grab it. After all, there are no strings attached and those who download Age of Wonders III for free during this period will get a 10 percent discount on Age of Wonders: Planetfall Premium Edition. Those looking to get a full experience can also get the three DLC packages for Age of Wonders III at 50 percent off.
Age of Wonders III features a story-driven single-player campaign and supports both online and local multiplayer matches. Those who like to customized their gaming experience to the maximum also have a level editor at their disposal. This title has sold 500,000 copies by March 2016 and is available for Windows, macOS, and Linux.