Quake Champions is free until Monday, get it now and keep it forever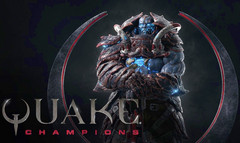 The first new entry in the Quake family of first-person shooters since Quake 4 — which arrived back in 2005 — Quake Champions can be downloaded via Steam as a free-to-play trial and those who sign up until June 18 can keep playing after the official launch as well. Early access has been available for US$30 since August 2017.
Originally considered as an expansion to Quake Live, Quake Champions entered closed beta last year, on April 6. Not long after — on August 23, to be accurate — it became available via Steam's early access program. Unfortunately, playing the early access version of the game was subject to a US$30 fee. Now, those interested to take it for a spin without paying a single cent can jump in to take advantage of the free-to-play offer that ends on June 18 at 10 AM Pacific Time.
Quake Champions is a fast-paced first-person shooter that is only available for Microsoft Windows. The free-to-play version currently ready for download via Steam comes with all the game modes and maps of the early access version, featuring a single champion - the Ranger. The Champions Pack is not included but can be acquired for US$30. The pack unlocks all current and future champions, as well as custom matchmaking and other goodies. However, the Champions Pack upgrade can be purchased for 34% off until June 21, so those who hurry up will only pay US$19.79.
Although the champions that come with unique attributes and the Sacrifice team-based mode are new to the Quake series, those who played the previous multiplayer titles in this family of games will recognize the good-old Deathmatch, Team Deathmatch, and the 1 vs. 1 Duel modes.
Some old players seem to hate the balance between the existing champions and a lot of negative reviews have been posted on Steam lately, but Quake Champions is worth at least a try for the old times' sake — especially since trying it as an early access title will go back to US$30 on Monday.
Working For Notebookcheck
Are you a techie who knows how to write? Then join our Team! Especially English native speakers welcome!
Currently wanted:
News and Editorial Editor - Details here