Huawei's Meng Wanzhou granted bail set at CA$10 million; Chinese officials detain Canadian ex-diplomat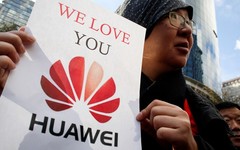 Huawei's Chief Financial Officer, Meng Wanzhou, has been granted bail at a hearing in a court in Canada on Tuesday (December 11). The executive's bail has been set at CA$10 million (~US$7.5 million) and she has had to give up her Chinese and Hong Kong passports. In a possible act of retaliation, Chinese officials have detained a Canadian citizen.
Meng Wanzhou has been freed on bail after a hearing took place in Canada on Tuesday (December 11). The judge, Justice William Ehrcke, set bail conditions of CA$10 million as a guarantee that the Huawei executive would not flee the country. Meng's activities will be monitored while she stays in her Vancouver home, and she has surrendered her Chinese and Hong Kong passports to Canadian officials. She will now have to wait until another hearing takes place in regard to her possible extradition to the United States.
In what appears to be a tit-for-tat response, a Canadian citizen has been detained by Chinese authorities. No reasons have been offered yet for why the individual has been arrested, but the man in question is believed to be a former diplomat. He has been named as Michael Kovrig, who works as North East Asia senior advisor for a non-governmental field research think tank called International Crisis Group.
Meng is wanted in the US in connection with alleged fraudulent activities. US law enforcement has accused the executive and Huawei of circumventing economic sanctions against Iran by using a shell company to sell hardware and technology to the Middle Eastern nation. If Meng was found guilty, she could face up to 30 years in prison.