Arrested Huawei CFO was in possession of an iPhone, iPad and MacBook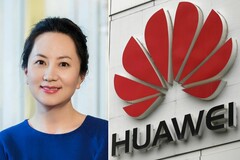 Arrested Huawei CFO and daughter of founder Ren Zhengfei, Meng Wanzhou, has had further embarrassment heaped on her. As if getting arrested in Canada at the request of the US government on espionage charges isn't enough, it has now been revealed that when arrested, Meng was in possession of several Apple products instead of Huawei equivalents.
Huawei has been in the wars lately. Not only has it had its state-of-the-art 5G cellular tower technology rejected on national security grounds by the US and other countries, its CFO and daughter of founder Ren Zhengfei has been arrested in Canada pending a US application for extradition on espionage charges. In new court filings, it has been revealed that Meng Wanzhou appears to be a fan of Huawei arch-rival Apple's technology more so than Huawei's equivalent products.
Instead of a Huawei MateBook laptop or Huawei MediaPad tablet, Meng was arrested in possession of an iPhone 7 Plus, a MacBook laptop and an iPad. The only Huawei tech she had in her possession was a Huawei Mate 20 RS Porsche Design smartphone. While that mightn't be a criminal act, Huawei hasn't taken it too well when its employees have been caught using Apple products for social media posts or other instances – these poor people have been summarily been fired.
Undoubtedly it helps to be the daughter of the president and founder; however, Meng certainly has more pending concerns on her hands than the devices she was found to be using while on the road. The CFO is defending herself against a 13-count indictment including charges of espionage, obstruction of justice, attempted theft of trade secrets and conspiracy. For his part, Ren Zhengfei says the charges are trumped up and are "politically motivated."