iPads may finally gain mouse support with iOS 13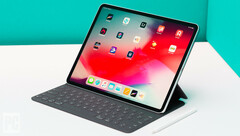 The tech leaker Stephen Troughton-Smith has supported a rumor that an iPad will gain the ability to pair properly with a mouse with the next iOS update. This new feature will allegedly be a new accessibility option in the new upgrade. However, it is not clear if the rumor applies to wireless, wired or both in terms of these peripherals yet.
Apple has marketed its line of iPads, particularly the Pro 2018 variant, as laptop replacements for some time now (with the price-tags to back this up). However, this has been only so effective so far. It would help if the slates in question worked with any navigation utility that would bring it in line with the average laptop, such as, say, a mouse. Sadly, this possibility is not present in iOS at the moment.
However, a recent rumor, courtesy of the ConnectedFM podcast, has alleged that this discrepancy will be addressed in the next update for iOS on the iPad. This long-awaited leak has also just been corroborated by Stephen Troughton-Smith on Twitter. According to him, mouse support will appear as an accessibility option in iOS 13.
This possibility could considerably upgrade the user experience on devices such as the iPad Pro 2018. Furthermore, Troughton-Smith projects that the upgrade could also result in the potential for app development that harnesses and implements the new level of peripheral support. It has also been suggested that Apple, being Apple, will come up with some novel variation on or alternative to the familiar arrow cursor should a mouse be indeed allowed to work with an iPad.