Brydge Pro: a new, premium Bluetooth & USB-C keyboard attachment for the 2018 iPad Pro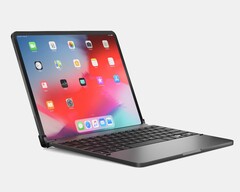 Brydge is a company that makes premium external keyboards for tablets from OEMs such as Microsoft and Apple. Most recently, it has released the 'Pro', a Bluetooth accessory for the 2018 iPad of the same name. It is made of aluminium and has variants for the 11- and 12.9-inch SKUs of its corresponding device.
With its A12X Bionic processor, 120-hertz refresh rate and new, improved OS, the iPad Pro 2018 may be the best notebook-replacement candidate in the tablet category. However, many users may still prefer a physical keyboard and other related inputs. Some case-makers, Apple included, have tried to solve this problem with specific docks for this device.
The Brydge Pro, an emerging option among these categories, elaborates on this concept with a build made of the same aluminum (in the same space-gray or silver colors) as the iPad Pro. It connects with such a slate via Bluetooth 4.1, and charges using USB type C. This keyboard-integrating case is also designed so as to offer 180-degree viewing angles, which also means the iPad also becomes somewhat of a 2-in-1 with a Brydge Pro on.
Each Brydge Pro also comes with an optional, magnetic protective cover for the 2018 iPad Pro's rear cover. It has variants that are compatible with the product's 11-inch and 12.9-inch SKUs. Unfortunately, as with many similar products for this already premium-tier device, neither comes cheap: the former is US$149.99, whereas the latter comes in at $20 more.