Psychotherapy in VR, anyone? KRY Healthcare want to treat stage fright using a headset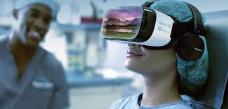 KRY, a company that describes itself as a "digital healthcare provider", is the world's first group to offer treatment for public-speaking phobias in VR. This form of therapy is to be made available to adults of 18 and older. It involves doing therapeutic 'exercises' using a VR headset worn at home.
Besides, gaming, psychological therapy is another emerging use of virtual reality (VR) technology. It is now increasingly used as a form of 'immersion therapy' for patients with various phobias. Therefore, a "digital healthcare provider", KRY, has applied this theory to the treatment of 'stage fright'.
This Swedish company intends to provide patients with VR headsets so that they can use the new form of therapy in their own homes. It will apparently involve convincing scenarios in which the patient can deal with their fears of speaking in public. This will be done in conjunction with the individual's psychotherapist or counselor.
This treatment, like many other similar options, works through a combination of VR immersion and cognitive-behavioral therapy (CBT). KRY, who claims to spearhead the integration of technology into healthcare, hopes that their form of stage-fright therapy will become a successful example of "modern and efficient treatment".