The Asus ROG Phone coming to the US in less than two weeks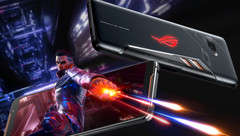 First announced at Computex, the (overclocked) Qualcomm Snapdragon 845-powered Asus ROG Phone is now finally ready to take on the North American market. This gaming handset with 8 GB of memory and up to 512 GB of internal storage space will be launched in the area during an event that is scheduled to take place in New York on October 18.
No matter how awesome might be the ROG Phone, there is a problem with it: although it has been announced at Computex, North American gamers still can't get their hands on this rather unique Qualcomm Snapdragon 845-powered handset. Fortunately, Asus has just announced a special launch event that will take place on October 18.
The image that ASUS North America has recently posted on Twitter does not leave any room for misunderstandings: "Coming to New York 10.18.2018" and the background of the ROG Phone should be more than enough for anyone, right? Remains to see what kind of launch event will be this one — for the US or North America alone or a global one — hopefully also accompanied by availability and pricing details in both cases.
Other than the above, we know for sure what to expect. In addition to the overclocked top-of-the-line processor, the ROG Phone promises to hit the market with 8 GB of memory and 128 GB or 512 GB of internal storage, a fingerprint reader with a unique shape, ultrasonic shoulder triggers, a 90 Hz refresh display, a 4,000 mAh battery, two USB Type-C ports, as well as an impressive dock and a few other accessories.
The video below should clear out some things — even if it shows a prototype — so check it out and let us know what you think about this upcoming smartphone for gamers.