Walmart could be the next major corporation to join the race for game-streaming supremacy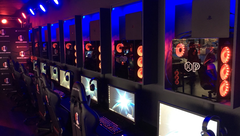 It has been reported that Walmart has been meeting with a number of game developers and publishers to discuss a potential video-game streaming service. With Google just revealing its Stadia service and Nvidia's GeForce Now platform gearing up for worldwide launch, there's a good chance cloud gaming is going to revolutionize the way people play video games on a huge scale.
It wouldn't be entirely unsurprising if the rumor that executives from Walmart have been talking with developers and publishers about creating its own game streaming service is true. The idea itself isn't new: PlayStation Now has been operating since 2014 (although gamers are restricted to its library of games) and OnLive started in 2010 but was shutdown in 2015. With big names like Google and Nvidia pushing deeper into cloud-gaming territory, it seems Walmart might want to accompany them on their journey.
The global video-game market is growing, and it is predicted to keep moving in an upward direction: It could be worth over US$135 billion by 2020. It's undeniable that gaming on demand is still a relatively new sector of the industry, but it's going to become massive. Walmart has already started selling an exclusive range of gaming laptops (the Overpowered series, designed by Esports Arena) that have been well-received, and the retail giant might be considering further expeditions into the gaming domain.
Of course, this rumor comes from anonymous sources, and it's likely that any talks or plans are at a very early stage – so there won't be any Walmart-brand game-streaming software or hardware to report about for the time being. But even though Walmart doesn't have Google's vast experience in the technology area, neither does it have dozens of data centers nor control of the all-important YouTube, what it does have is nearly US$220 billion in assets and over 200 million customers in the US alone. For those that don't trust Google with their personal data, Walmart could be seen as a comforting alternative when it comes to choosing a game-streaming service.
Working For Notebookcheck
Are you a techie who knows how to write? Then join our Team! Especially English native speakers welcome!
Currently wanted:
News and Editorial Editor - Details here