Steam game streaming is coming to smartphones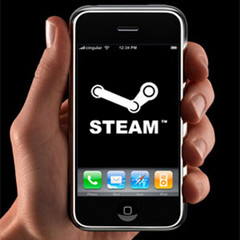 A press release from Valve has revealed that the company intends to release two new apps, one of which will allow gamers access to their Steam media libraries on smartphones. The Steam Link app is expected to be released in the week starting May 21. The second app, Steam Video, will offer movie and television content.
Valve Corporation has issued a press release in regard to two new apps the video-game company has been developing for the software-distribution platform Steam. The first app, Steam Link, will allow access to the Steam game library via smartphone. Android or iOS-based devices connected to a 5 GHz network or wired Ethernet will be able to link up with a host PC or Mac and transfer game content. The app also supports using a Steam Controller or MFI Controller, which would basically turn a smartphone into a mini-console.
The second app announced in the Valve press release is called Steam Video. This app will allow users to stream movies or shows from Steam onto their smartphone. The service will be offered through Wi-Fi or LTE and will allow content availability in online or offline modes. No additional hardware will be required to utilize the new apps, unlike the Steam Link device that was once necessary for streaming content to a television (with exceptions).
The Steam Link app is expected to launch in the week starting May 21, whilst the Steam Video app has been slated for release sometime in summer.