GDC 2018 | Steam enjoys a bumper year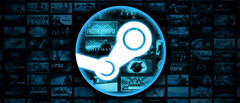 The creator of the Steam Spy website, Sergey Galyonkin, has claimed that 2017 has been a very good year for the video-game distribution platform Steam. He stated that the platform made an estimated US$4.3 billion in revenue from paid game sales, up from US$3.5 billion in 2016. Steam was developed, and is operated, by the Valve Corporation.
Steam Spy is a video-game sales tracking website that has been running since 2015. Founded by Sergey Galyonkin, the site makes estimates on sales made on Steam and the numbers offered are believed to be accurate to within 10%. Galyonkin has been talking about the distribution platform at the Game Developers Conference (GDC) in San Francisco and shared the data in regard to Steam's estimated revenue via his site's Twitter account.
The US$4.3 billion figure does not include downloadable content, microtransactions or in-app purchases. Galyonkin claims that a large amount (~US$600 million) of that considerable revenue comes just from PlayerUnknown's Battlegrounds, which would be unsurprising when the game's incredible worldwide success is taken into account. A reported 7,672 games were released on Steam last year and the amount of accounts on the digital distribution platform rose by 63 million to a total of 291 million over the same time period.