Steam Spy ceases operations due to privacy changes made by Valve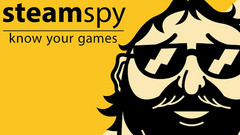 The well-known video-game tracking website Steam Spy will be shutting down after Valve announced changes to Steam's privacy settings. The specific change that has affected Steam Spy's operations is the default hiding of a user's game library. Steam Spy scraped data from public profiles on the software distribution platform to estimate overall game sales.
The Twitter account for Steam Spy has announced the video-game tracking website "won't be able to operate anymore" after the Valve Corporation decided to make changes to Steam's profile privacy settings. Steam Spy utilized information from visible game libraries to make estimates on game sales, which although it could never be 100% accurate was considered to offer a fair snapshot of a game's sales performance. The new privacy settings mean that a Steam subscriber's game library will be hidden by default, so Steam Spy no longer has access to the data required to make sales figures.
It has been reported that the end of Steam Spy has elicited mixed feelings among the game-developing community. There has been a comment that its closure "sucks" because of the website's usefulness as a measuring tool, but there are others who feel that Valve's decision was correct because the new changes are beneficial to a user's privacy. Considering the relevant issues and recent controversies in regard to data security and online privacy, it's not really a major surprise that Valve took this action now.