Privacy feature in iOS 11.3 lets users know when it wants your data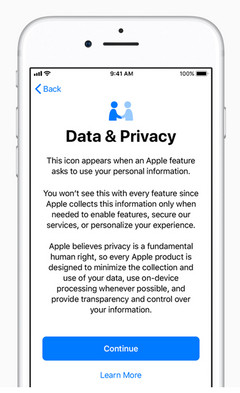 Apple has baked a new privacy feature into iOS 11.3, the latest software update for its iPhones and iPads. Following the update, a new icon will appear each time personal information is required to enable a service providing users with a new layer of transparency over how their data is handled.
A new security feature in iOS 11.3 gives Apple iPhone and iPad users notification when personal data is required. Apple says on its website that it believes privacy is a "fundamental human right" and argues that the way it manages user data is a key differentiator from the competition. Although following in the wake of the Facebook user privacy scandal, the update is in response to a EU General Data Protection Regulation.
Each time personal information is required, a new privacy icon depicting two people shaking hands will appear, notifying users that their data is required. Apple says that the icon won't appear all the time, but only "when needed to enable features, secure our services, or personalize your experience." Apple says that it aims to minimize the collection and use of user data and uses on device processing "whenever possible [to] provide transparency and control over your information."
Although not immune to data breaches, Apple CEO Tim Cook used the Cambridge Analytica/Facebook scandal to highlight what he sees as a fundamental difference between Apple and the competition. Cook argues that when using products and services from companies like Facebook and Google, the user becomes the product. Apple, in contrast, does not rely on user data to sell its products and services, and is therefore in a position to maximize user privacy.