Apple confirms March 27 event, we should get ready for new iPads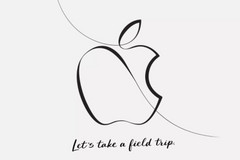 The official invite that Apple has recently sent out contains the headline "Let's take a field trip." and the location of the March 27 event makes it all clear. The new Apple products will be unveiled at the Lane Tech College Prep High School, the rumors about them including new iPads (models with an OLED display and/or cheaper ones), VR gear, a new Apple Pencil, and even a preview of the upcoming iOS 12 update.
Apple was expected to hold a special launch event this spring, but the location they have just announced took us by surprise. At the end of last week, the Cupertino giant has sent invites to an event that will take place on March 27 in Chicago. The invites contain the headline "Let's take a field trip." and make it clear that most of the products to be unveiled will target the education market.
To be more specific, we know that the March 27 event will take place at the Lane Tech College Prep High School. According to CNET, the invitation also says "Join us to hear new creative ideas for teachers and students," but it is almost certain that this event will be about more than just ideas.
The list of devices that Apple is expected to unveil this year includes cheaper iPads, at least one iPad model with an OLED screen, but there are two more things suggested by the invite mentioned above. The writing style suggests that a new Apple Pencil could arrive at this event, while the field trip part might involve some hardware products related to augmented/virtual reality. Some education-related services might also surface at the event, but there is nothing else to say about this right now.
In addition to the above, we hope to get at least a glance at the upcoming iOS 12, an update that is expected to surface in June, at WWDC 2018. Apple's last such event with a focus on education took place in January 2012, when it was all about digital textbooks.