Could two new Apple iPads be coming soon?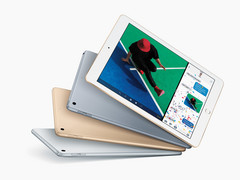 Apple has made an international regulatory filing with the Eurasian Economic Commission (EEC) that suggests the company is preparing to release two new products in the iPad line-up. The filing lists two tablets with model numbers that have not been associated with the iPad before: A1954 and A1893. There is some speculation that the devices could be the next iPad refresh.
In a recent filing with the EEC, Apple has listed two tablets with model numbers A1954 and A1893. These model numbers have not been associated with iPads before, leading to the suggestion that updated versions of the popular tablet range will be coming sooner rather than later.
The filing also mentions that the devices will operate with iOS 11. Unfortunately, no further details in regard to the tablets are mentioned in the EEC filing, but there is speculation that Apple is likely to release the devices in March.
The last iPad update (not including the iPad Pro) was the iPad 2017, released in March, 2017. Notebookcheck gave the iPad 2017 a glowing review, thanks to pros such as the bright display, excellent build quality and the more accessible starting price point. However, the dated components were not so well-received. It is possible these two new models will simply be updates on the iPad 2017.
The EEC is based in Moscow and is an executive body of the Eurasian Economic Union, which has Armenia, Belarus, Kazakhstan, Kyrgyzstan and Russia as members.