Logitech reveals new accessories for sixth-generation iPad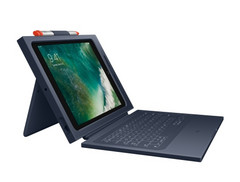 Swiss computer-accessory manufacturer Logitech has announced a couple of new items specifically designed for the just-released sixth-generation iPad. Firstly, there is a stylus called the Logitech Crayon Digital Pencil that offers an eight-hour battery life. Then there is the Logitech Rugged Combo 2 case and keyboard combination, which has been designed to protect the newly revised 9.7-inch iPad from bumps and drops.
Apple only revealed the sixth-generation iPad on March 27 and Logitech has already announced bespoke accessories for the tablet. The iPad (2018) is aimed at the education market and comes with support for styluses (like the Apple Pencil) and keyboards. Powered by the Apple A10 Fusion SoC, the 9.7-inch iPad will be priced at US$299 for schools, with the Apple Pencil costing an extra US$89. Logitech's alternative stylus will have a suggested retail price of US$49.99, and according to the company's press release will be made available "to schools and school districts in the U.S. beginning this summer."
Along with the Logitech Crayon, the Swiss peripheral maker has also revealed plans for a case with a detachable keyboard. The Rugged Combo 2 will apparently be able to protect the iPad (2018) from drops of up to four feet and the keyboard is spill-resistant – so it should afford some protection for the Apple device from clumsy or careless students. The suggested retail price for the Rugged Combo 2 is US$99.99, and it also should be available by summer.