Petro "makes" US$735 million, Seagal lags behind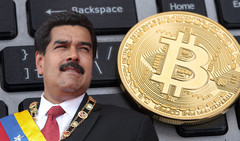 The President of Venezuela, Nicolas Maduro, has claimed that the country's cryptocurrency has enjoyed booming business on the first day of its pre-sale. Apparently, investors have snatched up US$735 million worth of Petro digital currency. Meanwhile, Bitcoiin2Gen (B2G), which has the masterful Steven Seagal as its celebrity ambassador, is currently lagging behind with a still impressive US$27.97 million in its pre-ICO fundraising round.
Venezuela is currently struggling with a crippled economy, so if Nicolas Maduro's US$735 million claim is factual, then this will bring some sense of relief to the country's economists. However, the president's statement has not been backed up with evidence, suggesting that he is simply trying to drum up business by making the Petro look like a must-have investment whilst the opportunity remains. The Venezuelan virtual currency is supposed to be backed by the country's huge oil reserves (in 2016, the nation was producing over 2.2 million barrels of oil per day).
Maduro made this comment about the Petro: "a cryptocurrency is being born that can take on Superman." It is clear Maduro is using "Superman" here to mean the United States, therefore implying Petro is a form of kryptonite.

Talking about Superman, Bitcoiin2Gen is still generating news mainly thanks to its current association with movie superhero Steven Seagal. However, the company behind the VC has been on the defensive, releasing a statement refuting accusations that it is possibly running a Pyramid Scheme. There is the opportunity for ICO-period investors to be involved in a four-level commission structure, but that looks nothing like a pyramid. It's more of an isosceles triangle if anything.
B2G is hoping to make a hard cap of US$250 million (with a soft cap of US$75 million).