Alienware partners up with Miami Heat and Misfits Gaming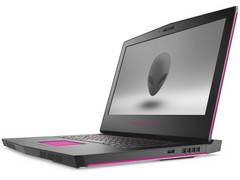 Dell's gaming-hardware subsidiary, Alienware, has teamed up with the Miami Heat and Misfits Gaming to help enhance the NBA team's eSport development program. Video-game competition has become big business with total eSports revenue streams being estimated at US$660 million worldwide for 2017. Alienware will be providing laptops and other hardware for training and streaming purposes.
With games such as Dota 2 and Counter-Strike: Global Offensive becoming popular eSport mainstays, it makes sense for the Miami Heat to create a partnership with a renowned gaming-hardware supplier like Alienware. The NBA team formed a partnership with Misfits Gaming in 2017 for the purposes of cross-promotion and to bring traditional sport and eSports more into line with each other. Misfits Gaming is a professional eSports organization that has teams competing in League of Legends, Overwatch, Counter-Strike: Global Offensive and other popular multiplayer games.
Members of Misfit Gaming teams will have access to the best devices Alienware has to offer, such as the highly rated Alienware 15 R3. Being able to train with the latest hardware should help give Misfit Gaming representatives an edge in the lucrative eSport arena. Alienware will also assist with a series of gaming nights to encourage Miami Heat fans to integrate further into the growing eSport market.
Alienware was founded in Miami in 1996. The company, originally called Sakai of Miami, was bought by Dell in 2006.