Most affordable iPad ever might arrive in Q2 2018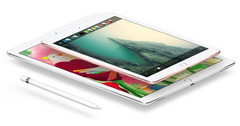 Although it is rumored that next year will bring at least one iPad with Face ID, insiders familiar with the matter also revealed that Apple also plans to launch its cheapest iPad to date in 2018. The price of this tablet is expected to be around US$259, claim the same sources.
The cheapest Apple iPad to date was released last spring, carrying a price tag of US$329. However, it looks like Apple wants to go even lower. Nothing is official yet, but it looks like the first iPad with Face ID will have a companion priced around the US$260 mark.
According to a report published last Friday by DigiTimes, "Apple is considering a new inexpensive 9.7-inch iPad priced at around US$259 for 2018." The insiders who talked about the upcoming iPad also added that this tablet's main purpose would be to help Apple in maintaining the current volume of quarterly shipments (10 million units).
In addition to the above, it has also been revealed that the new iPads are expected to arrive in the second quarter of 2018. The most interesting part is that Apple is also supposed to extend the reach of its iPad lineup into the service and industrial sectors, so we might finally see a rugged tablet by Apple next year as well.
The global tablet market has been slowly going down on all fronts, so the drop of iPad sales came with a similar decline in the Android sector.