Fitbit OS 2.0 rolls out to Fitbit Ionic wearables with Deezer support, new gestures, and more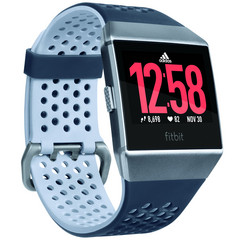 Last week, Fitbit started to roll out the firmware version 27.32.4.19 to the Fitbit Ionic smart wearables. This update is based on Fitbit OS 2.0 and includes Fitbit Today, described as "an updated on-device dashboard that keeps you informed about all of your health and fitness data," support for Deezer playlists, a new set of control gestures, various changes to the interface, and more.
Earlier this month, Fitbit introduced the Versa smart wearable. Priced at US$199.95, this health & fitness smartwatch comes with 24/7 heart rate monitoring, onboard storage for phone-free music listening, support for additional apps, coaching features, as well as a battery life of over 4 days. In addition to the above, it also comes with Fitbit OS 2.0, a new versions of the mobile operating system that was launched last year with the Fitbit Ionic. Now, the Ionic is also receiving the new firmware.
Last week, the update started to reach the first Fitbit Ionic units in the wild, but the process is still not complete. Back then, we heard that the firmware version 27.32.4.19 started to roll out only to 10 percent of all Ionic users. Being a progressive rollout, it could take a few weeks for everyone to receive it. Fitbit reveals that this progressive introduction of the updates is made "as a cautionary measure so that we can monitor performance closely and make adjustments if needed."
Fitbit OS 2.0 will bring the following new features to the Fitbit Ionic:
Fitbit Today - an on-device dashboard that gathers all the health and fitness data in the same place, such as daily/weekly stats, historical activity, exercise summaries, as well as tips and tricks
support for Deezer playlists
multiple changes to the interface, including one-screen access to all music controls, a new order of the apps, new gestures