Nintendo releases trailer for SEGA Mega Drive & Genesis Classics for the Switch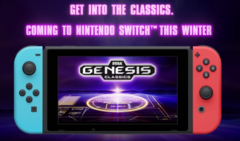 The Sega Mega Drive & Genesis Collection, which bundles over 50 16-bit Sega games, is coming to the Nintendo Switch this winter. Nintendo just posted a trailer for the collection on YouTube. The Collection is further evidence of Sega's good response to retro gaming and stands in stark contrast to Nintendo's less-than-stellar retro track record.
Genesis does what Nintendon't. Like releasing classic games in a bundle without a subscription.

The SEGA Mega Drive and Genesis Classics bundle was a smash hit when it launched on Steam earlier this year. The bundle is a collection of some of Sega's best 16-bit games and is a well-executed trip down nostalgia lane. Nintendo just released a launch title for the Switch port of the collection, which will be coming out this winter.
When it comes to managing their older IPs, Sega has knocked it out of the park the past couple of years. While there have been a few missteps (like the terrible AtGames consoles), Sega has a good track record for releasing collections of their retro titles and supporting the retro scene as a whole. Sonic Mania, which started as a fan game based on the older 2D platformers, was a rousing success. Sega has also ported many of their 16-bit titles to smartphones with quite a bit of care.

It has to be said that Nintendo happily sits at the other end of the spectrum. Most of Nintendo's mobile titles have been rehashes of existing IPs that are more focused on microtransactions than gameplay. Nintendo has also come under fire this year for their controversial subscription-based virtual console for the Switch (dubbed Nintendo Switch Online). Rather than purchasing older games, users have to pay a monthly fee to access a library of games. To their credit, Nintendo Switch Online offers a decent selection of games that will grow, and subscriptions aren't terribly expensive ($3.99/month or $20/year), but the service has so far left a lot to be desired.

That's one thing Sega does better than Nintendo: game ownership. When Sega releases a retro game or collection of games, they typically allow users to fully own the titles they purchase. For example, the Steam version of the Mega Drive & Genesis Collection allows users full access to the ROM files for each title.
Pricing and availability of the Mega Drive & Genesis Collection for the Switch have yet to be announced, although the Steam version currently runs $30. If the Switch version of the collection is the same as the Steam version, then gamers can expect to see the following titles:
Alex Kidd in the Enchanted Castle
Alien Soldier
Alien Storm
Altered Beast
Beyond Oasis
Bio-Hazard Battle
Bonanza Bros.
Columns
Columns III: Revenge of Columns
Comix Zone
Crack Down
Decap Attack
Dr. Robotnik's Mean Bean Machine
Dynamite Headdy
ESWAT: City Under Siege
Fatal Labyrinth
Flicky
Gain Ground
Galaxy Force II
Golden Axe
Golden Axe II
Golden Axe III
Gunstar Heroes
Kid Chameleon
Landstalker
Light Crusader
Phantasy Star II
Phantasy Star III: Generations of Doom
Phantasy Star IV: The End of the Millenium
Ristar
Shadow Dancer: The Secret of Shinobi
Shining Force
Shining Force II
Shining in the Darkness
Shinobi III: Return of the Ninja Master
Sonic 3D Blast
Sonic Spinball
Sonic the Hedgehog
Sonic the Hedgehog 2
Space Harrier II
Streets of Rage
Streets of Rage 2
Streets of Rage 3
Super Thunder Blade
Sword of Vermilion
The Revenge of Shinobi
ToeJam & Earl
ToeJam & Earl in Panic on Funkotron
Vectorman
Vectorman 2
Virtua Fighter 2
Wonder Boy III: Monster Lair
Wonder Boy in Monster World
Working For Notebookcheck
Are you a techie who knows how to write? Then join our Team! Especially English native speakers welcome!
Currently wanted:
News and Editorial Editor - Details here