Lenovo: ThinkPad 25 will likely be announced on October 5, only available in certain markets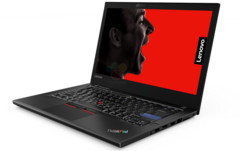 This week, the announcement of the first ThinkPad notebook will be exactly 25 years ago. Lenovo, the PC-OEM who develops ThinkPads since 2005, will host a small even on Facebook on that day - and likely announce the ThinkPad 25 there. In unrelated news, there are some new details about this model, which apparently won´t be available everywhere.
25 years ago on the coming Thursday, the 5th of October, IBM announced the first ThinkPad – you can read more on the history of the first ThinkPad in this detailed retroperspective. In June, Lenovo announced that there will be a special edition ThinkPad to celebrate this occasion. Though various leaks, we learned that this model will be based on the ThinkPad T470.
Lenovo now announced that there will be a small birthday-event live-broadcasted via Facebook - most likely, the special edition ThinkPad 25 will be announced there. The specifications of the machine were already leaked, though the price is still unknown.
Apart from this news, there are new informations about Lenovos plans for the ThinkPad 25, or to be more precise, where exactly it will be released. This info is based on a parts-list on Lenovos own support-site, which lists the different keyboard parts that are used in the machine.
Based on the available keyboard-layouts, it seems the ThinkPad 25 will be available in the following countries: Switzerland, Germany, Belgium, Spain, France, Italy, Netherlands, Sweden, USA, China, Great Britain, Japan as well as Denmark and Norway. Of course, this is still unconfirmed information and there is a chance that this list isn´t quite complete.
More information on the ThinkPad 25 are expected soon, as the 5th of October is already next week.