Evercade releases press renders of cartridge-based handheld console that will offer retro gaming heaven; Atari on board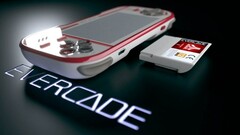 Interesting renders of a new handheld console have been posted by its manufacturer, Evercade. The device is still in the development phase, although apparently it's in the later stages as the company has announced it will be available in 2019. The console offers straightforward cartridge-based gaming with retro games and publishers being targeted for inclusion.
Evercade has shared some well-designed renders of its upcoming handheld console. The device is decked out in white with red borders and features a typical hardware button setup that you would expect from this type of portable console. It will be possible to connect the Evercade console to a television via HDMI.
Games for the Evercade device come on cartridges and will likely feature retro classics. At the moment, the company has revealed that Atari is on board with the project, with one cartridge storing no less than 20 classic games (Atari Collection 1). Asteroids, Centipede, Adventure, and Crystal Castles are all included (see image below for full list).
Pricing for the Evercade is as follows: Standard with one cart costs £59.99/€69.99 /US$79.99 while the Premium package with three carts is priced at £79.99/€89.99/US$99.99. No Internet connection is required and the 4.3-inch screen is powered by a USB re-chargeable battery that offers up to 4-5 hours of retro gaming heaven.
Evercade is looking to expand the library of games that will be available for the handheld console, with focus being made on classics from the 8-bit and 16-bit gaming eras. More publishers are expected to be announced soon – and it's likely it will be the choice of companies that Evercade manages to persuade to participate in its venture that will decide on whether the retro console will thrive or fail.