Updated | Images of exploded Samsung Galaxy S10 5G evoke memories of Note 7 debacle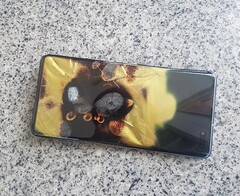 A Samsung Galaxy S10 5G owner has taken to an online platform to share some disturbing photos of the flagship smartphone after it apparently caught fire and exploded. It's clear to see in the images the massive amount of damage the device has sustained; fortunately, it seems the user was not injured in the incident.
Samsung has issued a brief statement about the matter.
Update May 3: Samsung has issued a statement about this particular incident, which states: "After retrieving the device from the customer, Samsung has closely inspected the device and concluded that the damage was caused by external impact".
Samsung could be preparing for a serious damage control exercise if this recent episode of a Galaxy S10 5G blowing up doesn't remain an isolated incident. The pictures shared by a South Korean S10 5G owner show the catastrophic effect of whatever happened to the new flagship smartphone. The user uploaded the photos of the destroyed device to a South Korean web portal called Naver.
It's not yet entirely clear what caused the Samsung Galaxy S10 5G to set alight and then explode. The user had reported an external damage mark, which may have been caused by whatever eventually caused the device to catch fire – such as a faulty battery. The incident is reminiscent of the massive disaster Samsung had with the Galaxy Note 7 phablet, which notoriously suffered from a manufacturing defect in the battery that made units overheat and even set on fire.
Looking at the amount of damage that the exploded Samsung Galaxy S10 5G endured, the owner can count themselves lucky they didn't suffer injury. The owner stated that the device had only been used for six days before it overheated and blew up. Apparently, Samsung has checked the smartphone in question and could not find any inherent product defect, with the implication that an external shock unrelated to any fault with the device's components made the Galaxy S10 5G eventually explode.