MacBook Pro: Battery dramatically explodes, damaging owner's house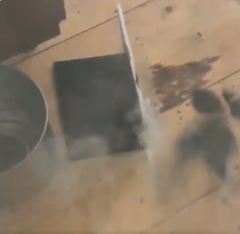 A Twitter user has shared a video and information about his MacBook Pro, which exploded during normal use. The video shows the laptop emitting copious amounts of smoke, with the battery having caught fire. The device has been brought to Apple, which needs five days to diagnose the problem.
Anyone for a MacBook BBQ? Music producer White Panda, who has over 28,000 followers on Twitter, has tweeted an alarming video of his MacBook Pro smoking uncontrollably. He claims that the device started spewing toxic smoke while he was using it on his lap.
Clarifying on Reddit, White Panda stated that the laptop was plugged in at the time that it started smoking. Upon noticing this, he placed it on a floor, at which point it "popped, the smoke increased, and it caught fire". He managed to take it outside, but the explosion damaged his home. Thankfully, no-one was hurt during the incident.
Disturbingly, Apple has informed the producer that it will take up to five days for technicians to just diagnose it. There has been no official word yet from Apple about the matter, but we shall keep you updated if it does.