Samsung store catches fire the day before the Galaxy S8 launches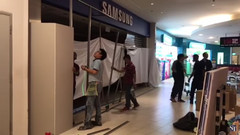 A Samsung Experience Store in Singapore caught fire early Tuesday. The blaze threatened nearby shops and caused unspecified damage. This incident is the latest in a string of fire-related thorns in Samsung's side.
Working For Notebookcheck
Are you a techie who knows how to write? Then join our Team! Especially English native speakers welcome!
Currently wanted:
News and Editorial Editor - Details here

Call it an omen, a sign, or simply an unfortunate coincidence. Samsung's bizarre relationship with fire has made its way into the news once again, this time at the expense of one of its own retail stores. A Samsung Experience Store in Singapore caught on fire earlier this morning, just one day before the company's Galaxy S8 is set to launch.
According to the Straits Times, the fire broke out in one of the storerooms in the store's basement. Due to the store's location inside a shopping mall, the fire threatened nearby shops, which were quickly closed out of caution. The flames were eventually put out by the mall's automated sprinkler system and local firefighters. No injuries were reported, but damage was reported by several shop spokespersons, mainly from water from the sprinklers. Samsung said it was "assessing the property damage" and working to determine what caused the fire.
The incident immediately brings to mind Samsung's well-documented troubles with battery fires, which led to a worldwide recall of the Galaxy Note 7 late in 2016. Earlier this year, one of its factories burst into flames; faulty discarded batteries were partly to blame. It's too early to speculate on the cause of today's blaze, but the last thing Samsung needs right now is yet another battery-related mishap, especially so close to the release of its next big thing.