Samsung Galaxy Note 7 investigation results are now public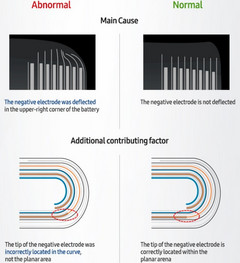 The whole Galaxy Note 7 saga seems to have reached its final page - the results of the official investigation are now public and they hold no surprise - the fires were caused by faulty batteries coming from two different suppliers.
Working For Notebookcheck
Are you a techie who knows how to write? Then join our Team! Especially English native speakers welcome!
Currently wanted:
News and Editorial Editor - Details here

After a thorough investigation that took a few months, Samsung can finally reveal the causes of the Note 7 disaster. All sides of the product, "including hardware, software and related processes," were checked by Samsung and three independent organizations.
Just as expected, the reason behind the fires was the battery. Sadly, both rounds of fires were caused by batteries coming from two different manufacturers. According to the infographic published by Samsung, the short circuits within the faulty batteries occurred when the separators allowing the positive and negative electrodes to meet within the jellyroll. Some batteries were also discovered to miss the insulation tape that should have been located between the negative and positive electrodes.
The faults discovered in the batteries supplied by SDI were apparently cause by Samsung's own division in charge of batteries moving to a whole new battery design and mass-producing it without properly testing it. On the other hand, ATL was apparently forced to make a lot of batteries very fast after the first recall, so they ended up with the missing insulation tape problems.
All in all, Samsung needs to slow things down a bit, and the delay of the upcoming Samsung Galaxy S8 might not be a bad thing in the long run. After all, what consumers need are reliable products that are also fast, not fast ones that might be reliable.